(If you would like a run through the stories found in the first five books of the series, jump over to my Reviews page.)
This sixth entry sees a slimmer volume for the Best New Horror series, and showcases twenty-one stories and a poem, all published during 1994. To be honest the book could have been even slimmer. Like the previous volume, Best New Horror 6 is an uneven read with a number of underwhelming stories littering the first half of the book. Get through that lot and you'll find the latter half significantly better, evidenced by a glut of award-winners and nominees. Taken as a whole, this makes for a fairly solid 4/5.
This was the first book in the series that was solely edited by Stephen Jones following Ramsey Campbell's departure. Don't think you've seen the last of Campbell, though, as his stories go on to feature in this and all but one of the next 22 books!
So let's jump in. The stories you'll find in Best New Horror 6 are as follows:
Dead Babies – Lawrence Watt-Evans (3/5 – Allie's waters have broken and her husband, Bill, is rushing her to hospital. The baby isn't hanging around, however, and it soon dawns on Bill that they will never reach the hospital in time. He decides a more sensible idea would be to make a short detour to Dr Everett's house. They are answered by Dr Everett's sister, Laura, who ushers them into a small parlour-like room. Everett arrives and sends Bill and Laura out into the hallway while he tends to Allie. As Bill paces the hall he cannot help but notice a dreadful smell in the house, seemingly coming from a nearby room, but he doesn't question it. When he hears Allie's anguished screams, Bill finds their worst fears have been realised. But that is only the beginning of the nightmare. This short helping of American gothic was okay, but it goes in the direction you'd expect from one scene to the next. That said, there are some nice touches here and there. The story is told from Bill's point of view and Watt-Evans does a great job of humanising him with an affectionate Deep South twang.)
Sensible City – Harlan Ellison (4/5 – Gropp is a police lieutenant facing a lengthy prison sentence following the brutal deaths of several inmates at the internment facility he ran. He's as guilty as all Hell too, thanks to his favourite pastime of smacking prisoners' heads along the bars of their cells until they pass out. Knowing he's going down, Gropp jumps bail with his right-hand-man-mountain Mickey Rizzo, who also has blood on his hands. They hightail it in a car with Mickey at the wheel. After a while they find themselves on an unfamiliar Interstate route with no idea where they are or where they are headed. A town called Obedience presents itself in the near distance, a town with an ominous green tinge in the sky. This was a fun short; like a weird mix of The Ant Hill Mob (with Gropp as Clyde and Mickey as Dum Dum) and the old Creepy and Eerie comics of the 60s.)
Blade and Bone – Terry Lamsley (4/5 – Ogden is on his bike, taking in and reporting upon the sights of the Peak District for the benefit of his laid-up wife, Poppy. A freak downpour on his travels forces Ogden to urgently seek shelter amid a line of boarded-up houses. Assuming the area to be uninhabited, he smashes open the door of a nearby outhouse. As he barges his way in, Ogden has the uncanny feeling of something brushing past him. Could he have accidentally released something from the outhouse? And if so, what? This was another strong showing from Lamsley, whose Two Returns in Best New Horror 5 was a highlight. This story takes a while to get going but oh my does the ending deliver!)
Harvest – Norman Partridge (3/5 – Raphael lives alone in C-Town. His children are dead. His wife is gone. Everyone else in C-Town has either died or fled. The trees are blackened, the river poisoned. The sounds of a weeping woman float through the empty streets. She is La Llarona, the very personification of all that ills C-Town, and she is keen for Raphael to taste her gruesome, fleshy fruit. When Raphael is visited by a succession of people all keen for him to move away from the area, a tragic and significantly more mundane explanation presents itself. But can Raphael accept it? I liked this sad and sombre story up until the ending, which tries to get away without answering anything. I griped first time around that this was weak and it suggested Partridge didn't know how to finish the story; a feeling that is sadly undiminished following a second reading.)
Sometimes, In The Rain – Charles Grant (4/5 – Len is an old man given to sitting out on the porch in the middle of winter, watching shapes emerge and dissolve in the rain. His younger sister, Gracie, lives with him. Originally this was to help Len around the house, but these days she's there more to bicker and complain and fuss. In order to escape her, Len goes out drinking with his friend (and Gracie's ex-husband), the magnificently named Youngman Stevens. But Youngman is a widower with a troubled soul. He is prone to seeing his recently deceased wife Edith in a nearby park. When Len staggers home after another night on the sauce, he catches a glimpse of Edith too. Of Grant's appearances in Best New Horror, this Stoker-nominated novelette was perhaps his most straightforward story. Nevertheless, it's wonderfully written, cannily observed and a nice little chiller to boot.)
Ménage à Trois – Richard Christian Matheson (2/5 – A couple get it on. Repeatedly. With a knife. Of course! This short sequence of vignettes was originally published in an anthology of erotic horror called Little Deaths, and clearly the attempt was to evoke a Barkeresque ooh-yeah-baby-cut-me-there-mmm-yeah-peel-my-skin kind of thing, but to be honest it's about as sexy as finding blood in your stool. I've given it one extra star, though, for its unintended comedy value. "Ghastly red licorice" indeed.)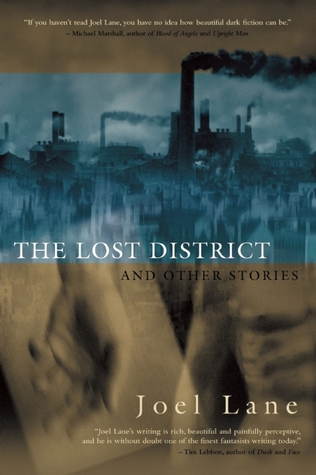 Like Shattered Stone – Joel Lane (4/5 – Peter is a sculptor who suddenly finds he's creating amazing work while asleep. One morning he wakes up in his studio, naked, tool in hand (stop it), finding he has rendered in granite an extraordinarily vivid forearm of a child reaching up out of the stone. It's all very nice, but it's a world away from the smashed-up cars and burnt-out buildings he was intending to sculpt. He wakes up another morning to find a young girl's head cut from another block of stone. Whatever could any of this mean? Later, one evening, while cutting through a side street to Soho Road, Peter spots a dark sealed-up building. The walls of said building aren't brick, however. They look somewhat like granite. This was a weirdly playful curiosity from Lane, couched, as ever, in bleak reportage from the Black Country. Echoes of this story can be heard in My Stone Desire, his British Fantasy Award-winning story of 2008.)
Black Sun – Douglas E. Winter (2/5 – In this International Horror Critics Award-winning story we follow an unnamed stranger as he is accompanied by a man called Hagopian through short scenes of post-nuclear holocaust and the slow death of the world. Hagopian has hired the stranger to undertake a horrific mass killing in the neon city, seemingly unaware of his assassin's true self. Much of this mood piece is open to interpretation, and your enjoyment of it will hinge on how much work you are willing to put into reading it. As I've mentioned a few times in these reviews, I have to be in the right frame of mind. I was originally less than enamoured with this story, stating that I'd be happy to live out my days never having to read it again. Well, having read it a second time – as I have with several stories so far in these extended reviews of Best New Horror – I found a story that still exhausted my patience, though it did improve slightly. I've upped the score a tad, but I wouldn't count on a third reading.)
Isobel Avens Returns To Stepney In The Spring – M. John Harrison (3/5 – In a story that flicks between past and present we follow Mick "China" Rose as he builds up a courier firm servicing a number of medical research companies across Europe. During these halcyon days he falls heavily for the titular Isobel, a waitress who yearns to fly like a bird. Cut to the present day and Isobel seems to have found one such research company that can help her fly, but with distressing, life-changing consequences. I wasn't keen on this Dr Moreau-esque story the first time around, thanks mostly to the incredibly irritating Avens. Seriously, if she'd exclaimed "China!" one more time I'd have reached into the story and wrung her bloody neck. It's damn near every other word she says. She even says it to help Harrison break up a few overly long paragraphs. <CynicModeDeactivated> Amazingly, despite everything running against it, Harrison manages to turn this story around in the latter third. For book nerds out there, Harrison later took this story, added Choe Ashton from Anima (his story in Best New Horror 4) and turned it into the British Fantasy Award nominated novel Signs Of Life. I'll pass, thanks.)
The Dead Orchards – Ian MacLeod (5/5 – Caitlin is a poor girl who finds herself the centre of a rich old man's attention. He is struck by her astonishing beauty, which is undimmed by her impoverished appearance. He begs her to come visit him, promising her money, a life of pampering and luxury and more besides. Caitlin agrees but is wary. She recalls how her mother disappeared one night long ago when lured to these grounds. She has every right to be wary too, for her host possesses a cruel streak a mile wide and the wealth to feed it. He also has a secret enchanted well tucked away in the bowels of the house. Those who drink of its waters fall into a catatonic state, a quality of which the old man has taken murderous advantage time and again. This was MacLeod's third appearance in Best New Horror, with each story better than the last. The Dead Orchards is an excellent read; a full-blooded and handsomely written horror story that is chock-full of gothic imagery and which leads to a very satisfying ending. Job done!)
What Happened When Mosby Paulson Had Her Painting Reproduced On The Cover Of The Phone Book – Elizabeth Massie (5/5 – From one excellent story to another. In What Happened… we follow Elliott, a tragic young boy whose wellbeing, confidence and schooling is being routinely destroyed by his dying mother. She is quick to browbeat Elliott, to lay on the emotional blackmail, to do anything to get her own way. Her cold-hearted selfishness has stripped the boy of any sense of ambition, effectively reducing him to her personal dogsbody. One morning Elliott opens the mail and sees a classmate's painting on the cover of the phone book, which makes him realise how much of his potential he is wasting. He used to get good grades. His artwork was often praised by his teachers. Now look at him. But what can he do to improve his lot? This is a sad story made all the more heartbreaking by the fact Massie drew on her experience as a teacher to write it.)
The Alternative – Ramsey Campbell (3/5 – Highton returns home one evening to his wife and two kids. Home is a cramped two-bedroom flat in a grotty, run-down estate. Both Highton and his wife, Valerie, have to sleep in the sitting room to give their teenage daughter and junkie son separate rooms. But something weird happens when Highton goes to sleep. When he wakes, he is a successful accountant with a model family and all the trappings of a comfortable lifestyle. So which life is real and which one is the dream? This was okay, but I couldn't quite shake the notion that Campbell was trying too hard. The Alternative chimes false as a result. List five things you'd expect to find in a stereotypical well-to-do household or rough council estate during the mid-90s and the chances are most of them will show up in this story.)
In The Middle Of A Snow Dream – Karl Edward Wagner (3/5 – Niane Liddell is an exotic dancer with a drug habit and the mental scars of a hard life. She's had a few brushes with death, the latter brought about through a Demerol overdose. She is sent to a retreat for recovering addicts, but something about the place feels a little off. It seems her fellow patients have all had near-death experiences too. Coincidence? This was one of Wagner's final stories before he died at the age of 48, and it left me wondering whether this was truly the finished article. The pacing of the story is uneven to say the least. Wagner spends time building up interesting characters in Niane and her fellow exotic dancer girlfriend Navonna, but the moment they both enter the retreat it seems he cannot wait to throw monsters at them and finish the story. Not great, sadly.)
The Temptation Of Dr Stein – Paul J. McAuley (4/5 – In an alternative history where Leonardo Da Vinci's inventions have helped transform Florence into a world power, Henry Gorrall and his sometime unofficial assistant Dr Stein investigate the body of a young girl pulled from the Grand Canal. Her body is sent to the city hospital for examination accompanied by two guards. When the guards are mortally attacked and the girl's body fails to arrive, Gorrall is furious. It seems the girl has been stolen by bodysnatchers. Events take a chilling turn when the girl is subsequently found in the company of a sideshow charlatan calling himself Dr Pretorious. Remarkably, the girl is alive… after a fashion. I didn't come to this story with high hopes if I'm honest, despite it bagging a British Fantasy Award. While I don't mind stories set in alternative universes, it didn't feel right for a horror story for some reason. I needn't have worried. McAuley wisely keeps the alternate reality stuff squarely in the background and focuses instead on characters, plot and excellent writing. Definitely worth a read.)
Wayang Kulit – Garry Kilworth (4/5 – A man is enjoying the rustic delights of Bali when he is handed an invitation to attend a wayang kulit – a sacred shadow puppet play. He attends the show and is suitably impressed with the skill and artistry on display. Later, while nobody is around, he examines the assorted puppets in the booth, unaware of his shadow falling against the screen. One of the shadow puppets moves, seemingly settling into place, its shadow meeting his. Our man soon senses a growing pain in his shoulders and comes to realise the shadow play isn't quite finished. I really liked Kilworth's Inside The Walled City, which was a highlight of Best New Horror 2, and this story is every bit as good.)
The Scent Of Vinegar – Robert Bloch (4/5 – Greg Kolmer is a young man who is keen to locate Kitty Earnshaw's place. Hers was a fabled house of ill repute from cinema's golden era, believed to be lost to the years somewhere up in the Hollywood hills. Greg is convinced he will find his fortune there, a treasure trove of dirt on the leading men of the age. Instead what he finds is a golden girl lying in one of the rooms; a girl with sharp teeth who, bizarrely, is able to detach her head from her shoulders. This Stoker-winning story from the author of Psycho is a fun read with a wonderfully satisfying ending.)
The Homecoming – Nicholas Royle (4/5 – Daniela returns to Romania, her homeland, following Ceausescu's bloody downfall. Upon arriving there she has a feeling that the nightmare isn't quite over. Bucharest is a wreck, yes, but other than that the city still seems brimming with informers and secret police. Strange dreams and uncomfortable truths come to light when Daniela attempts to find her brother. This World Fantasy Award-nominated story previously appeared in Jones' Shadows Over Innsmouth anthology, but thankfully this is one of those rare occasions where an author dips his toes lightly into Lovecraft territory and produces superior work. True, the tired Lovecraftian trope of a perpetually fearful protagonist is given an airing here, but the quality of the story makes up for it.)
The Singular Habits Of Wasps – Geoffrey A. Landis (5/5 – There are a few 5-star stories in this volume but this has the beating of them all. In The Singular Habits of Wasps Landis presents an astonishingly good Sherlock Holmes story, albeit perhaps not one for the purists! Doctor Watson is worried for Holmes. The famous detective has recently returned from investigating the disappearance of a mortally wounded farm hand and is exhibiting behaviour that is odd, even for him. With each nightly disappearance of Holmes it seems a lady of the night ends up slaughtered. Holmes couldn't be the notorious Jack The Ripper, could he? Remember: when you have eliminated the impossible, what remains, however improbable, must be the truth.)
To Receive Is Better – Michael Marshall Smith (4/5 – Jack is a man on the run, hiding on a subway train, desperate to avoid drawing attention to himself. But the cards are stacked against him, for Jack has never known the outside world. To make matters worse, he is missing an eye, some fingers and a leg. He has spent his whole life being kept in a tunnel, with all the other "spares" like him. Needless to say, Jack is a more than a little pissed at his lot and is going to do something about it. This World Fantasy Award-nominated story was originally published in another of Jones's many anthologies, The Mammoth Book Of Frankenstein, and it's typically brilliant of MMS to find an intriguing twist on the Frankenstein story. He would later take this story and turn it into his second novel, Spares, which I might have to seek out.)
The Alchemy Of The Throat – Brian Hodge (5/5 – In this sumptuous Stoker-nominated novelette we follow a modern-day castrato soprano, Giovanni Petrelli, in the months following his auction from a shady conservatory. This is a world in which castrati are still produced, albeit in utter secrecy, and the prices fetched by the most talented castrati are eyewatering. (The ones who don't make the grade "mysteriously" disappear.) Giovanni is purchased by an incredibly wealthy man called Julius, and is soon put to the task of singing for him. During the many years of his training, Giovanni has heard all the horror stories of his trade, of how the androgynous beauty of the castrati often land them in the beds of their patrons. He is understandably wary of Julius, wondering how long it will be before he too falls foul of his patron's lusty hands. But it seems Julius is content for Giovanni to merely sing for him. Julius's debauched friends, on the other hand, are another matter – as Giovanni is about to find out in full. This is a superb story, real genre-elevating stuff. There have been a few erotic horror stories in this and previous volumes of Best New Horror, but Hodge shows them all how it's done. Unmissable, though you might need some smelling salts while reading it.)
Out Of The Night, When The Full Moon Is Bright – Kim Newman (5/5 – This World Fantasy Award-nominated novella sees another mash-up from Newman, his third in as many books. Red Reign, in Best New Horror 4, was a brilliant story which took in Dracula and pretty much everyone of note, both real and fictional, from the Victorian era. The Big Fish, from Best New Horror 5, however, was a largely unsuccessful attempt to shoehorn Chandler into Lovecraft's universe. This time around Newman clearly thought, "The Legend of Zorro, WITH WEREWOLVES!" And do you know what? He's only gone and pulled it off. In one half of a dual narrative, we follow a young black novelist, Stuart Finn, as he endures a ride-around from hell courtesy of the LAPD. The whole city is a powder keg, its citizens brazenly taking pot-shots at the police, its gangs seemingly massacring rivals with impunity. Finn is here to develop a screenplay based on a successful novel of his, transplanting it from the UK to the US, but will he survive long enough to do so? On the flipside of the story we follow Diego as he embraces his newfound lycanthropy and cuts a murderously righteous path through a cruel, fledgling America, slaughtering any wrongdoers he senses, carving his zig-zag-zig calling card on each and every one of them. How the two narratives tie together, you'll have to read for yourself, needless to say it's very well done. It's not all wine and roses, however. There is a whiff of stale and faintly Verhoevenian near-futurism to overlook here and there, but do so and you'll find this a satisfying and bloodthirsty romp. Tuck in!)
Lovers – Esther M. Friesner (4/5 – A young woman awaits her sweetheart who has gone to war. She sends him a letter, promising him her heart, but then finds her love for him wanes in favour of another. Come her wedding day, an unexpected guest arrives, a little worse for wear, letter in hand. An unbroken four-page poem didn't appeal to me, if I'm honest, but then poetry is often what you make it. Once I'd gotten the cadence down I couldn't help reading this with the voice of Vincent Price in my head, which worked wonders! (Yes, I'm weird.) Lovers evoked a nice chill down the spine and made for a good closer.)
And so we come to the end of another monster review of Best New Horror. If you've gotten this far, thanks for reading! I hope there were a few stories here that tickled your fancy. You shouldn't have too hard a job tracking down a second-hand copy of this book on eBay or AbeBooks should you fancy a read. Failing that, the eBook version is available to purchase across most platforms. The book covers above will each link to their respective Goodreads pages, which may provide you with other avenues to explore.
I'll be back with a review of book 7 in a wee while. Do join me, won't you? Till then, TTFN!
LP