(If you would like an overview of the stories published in the first four books of the series, jump over to my Reviews page for links.)
Best New Horror 5 showcases twenty-nine horror shorts that were published during 1993 and was the last instalment of the series to be edited by Stephen Jones and Ramsey Campbell. As with previous books in the series, Best New Horror 5 is a mixed bag with runs of good stories here and there. A strong finish to the anthology helps push this into 4/5 territory.
As for the stories themselves, let's take a look:
Later – Michael Marshall Smith (4/5 – A man watches in horror as his beloved Rachel is cruelly knocked down in a hit-and-run accident. She dies in his arms a moment later. Our man is devastated and tries his best to get through the awful events that must follow, such as informing Rachel's parents, attending her funeral and wake, and adjusting to living alone in a house still filled with her effects. Soon after the funeral, and unable to face life without her, he goes to macabre lengths to bring Rachel back home. This was a good read with touching and believable expressions of grief, but was spoiled slightly the moment the supernatural was brought in. Slight spoiler – this was originally published in a zombie anthology, so I guess it had to go there, but I reckon Later would have packed a bigger punch had it ended just before the zombie stuff kicked in.)
When The Red Storm Comes – Sarah Smith (4/5 – We're in Portsmouth, New Hampshire, shortly after the turn of the twentieth century. Peace talks are taking place between Russia and Japan, and the town is awash with foreign diplomats and their entourages. Amid the hubbub Susan Wentworth finds herself the subject of Count Ferenc Zohary's intense interest. He promises to make her a vampire, just like him – if he is indeed what he says he is. Horror veterans will have read umpteen stories of vampire rumpy such as this over the years, but the interesting setting makes this worth a look.)
The Exhibit – Martin Plumbridge (4/5 – Suzie is enduring a succession of drab beach-side attractions with her father, all the while wishing she was somewhere else. When her father suggests they try The Wax Museum, Suzie stays put and sends him in on his own. When he fails to materialise some time later, Suzie and the museum's attendant head in to investigate. I liked this more than I thought I would, given the setup. The story goes in some unexpected directions, which helps to build a satisfyingly creepy atmosphere.)
Leavings – Kathe Koja (3/5 – Gordon finds he is being haunted by the long choking hair of his dead lover Sophy. He's pulling hair from the back of his throat, from his food, from his drink, seemingly everywhere. But why is Sophy haunting him so? I wasn't terribly keen on this the first time around. It's told in an increasingly cut-up style to give us a sense of the madness taking hold of Gordon, but it didn't take long for this to get on my nerves. Stories that set themselves up as difficult reads live or die on the willingness of the reader to go along with it, and it soon felt like this was a story that was determined to throw me out. It evidently succeeded as a second reading revealed a wonderfully creepy ending I'd missed the first time around. I've therefore upped the score a notch from my original review. Leavings is worth a look if you have the patience for it.)
Human Remains – Edward Bryant (3/5 – A group of women meet at a hotel. They dine together even though they have never met before. They are each survivors of a man recently executed for serial rape and murder, and the women exchange their experiences of him. Vicky shares the story of her narrow escape but leaves out a few crucial details, not least that she secretly wishes to feel the thrill of her near-death experience once more. In her bag is a Barbie doll wrapped in its entirety with fishing wire, seemingly left for her in the ladies' toilet. A lure, perhaps? I've rarely felt as conflicted about a story as I did here. There's a nasty undercurrent that grows the longer you dwell on it. Scored purely on the unease the story creates, this would be a 5/5, but I can't say I liked this one.)
Flying Into Naples – Nicholas Royle (3/5 – Royle fills the "holiday horror" slot for this particular instalment of Best New Horror with a weird slipstreamy story about a divorcee jetting into Naples in the hope of re-engaging with an old flame, Flavia. On his travels he experiences a bizarre episode, meeting a dying man not unlike himself who tells him where Flavia lives. When he tracks her down our man finds that Flavia only really comes alive when she is in her car. At all other times she is almost grey and lifeless, as if she is gathering a fine layer of dust like everything else around town. Flavia also claims to have been widowed six times, an enigmatic warning our man would do well to heed. I wasn't overly keen on this story from the outset. My unshakeable impression was that we were on holiday with a stalker, and I'm not entirely convinced that was intentional. The story is rescued somewhat by the impressive sense of place Royle creates, giving us a good flavour of Naples and its surrounding areas.)
The Sixth Sentinel – Poppy Z. Brite (5/5 – In this superb ghost story we are in the company of Jean Lafitte, feared pirate and privateer of New Orleans' French Quarter during the mid-nineteenth century. Now long dead, he haunts his old stamping grounds. In one such place lives Rosalie Smith, a world-weary twentysomething who strips by night and fills the rest of her waking hours slugging hard liquor. Jean is smitten and is not shy about making himself known to her. Rosalie is unconcerned by his presence, often talking freely with him, but she flatly refuses his offers of undiscovered treasure. She's not keen on digging stuff up. Keen to ease Rosalie's mental hurt, Jean enters her dreams to find the source of her pain. But is that his only motivation? If you liked His Mouth Will Taste Of Wormwood, Brite's story in Best New Horror 2 (and also collected in Swamp Foetus) then you'll love this. Unmissable.)
The Brothers – Rick Cadger (4/5 – Ian is driving home with his odious brother-in-law, Neville, who is stopping over for a few days. Home is the picturesque village of Galham with its pair of large serpentine statues erected like bookends on either side: The Brothers Bokovan and Yusenoi. Only those born of Galham can see The Brothers and each Galhamite has allegiance to one or the other. The Brothers quietly bless their subjects with success and longevity in return for their loyalty… and for a once-in-a-lifetime test of their faith. Events take a bizarre turn when, upon arriving home, Ian suddenly finds himself a guest; that somehow his wife is now married to Neville. This story has no right to work as well as it does. For a start it's written in the second person, a tough sell for me. Not only that, The Brothers operates solely and unapologetically on its own terms and it doesn't stand up to much scrutiny. And yet it's a wonderfully weird read. Definitely worth a look.)
The Owen Street Monster – J. L. Comeau (4/5 – A mean and mighty fine story told entirely as a sequence of phone calls made by Janine, the neighbourhood queen bee, to her closest friends. It seems some of Janine's friends aren't coping very well. Some are doubting whether the titular monster they'd killed was a monster at all. To say any more would be to give the game away, suffice to say this is a devilishly fun short.)
One Size Eats All – T. E. D. Klein (4/5 – Continuing the devilish fun is a story in which a young lad, Andy, receives a sleeping bag for Christmas. Both he and his older brother are planning to camp out on Mount Wendigo, so this is all very well. But the packaging seems to contain a misprint, declaring the sleeping bag to be "One Size Eats All". At least Andy hopes it's a misprint. Though this story was written for kids, Klein doesn't shy away from pressing all the scary buttons. A mighty fine way to spend ten minutes.)
Mulligan's Fence – Donald R. Burleson (4/5 – Kelly returns to the neighbourhood where she grew up. The apartment block in which she lived is long gone, razed to the ground, but old man Mulligan's fence still stands. Kelly scans the wood, running her fingers over the initials carved there, remembering the names, unaware she is also somehow drawing some of her old childhood friends back to the fence. For the most part this was a straight-up 3/5. As short as the story was, it lingered much too long on a roll call of inconsequential characters from Kelly's past, but the Tales-From-The-Crypt-style ending just about rescued it.)
How She Dances – Daniel Fox (4/5 – Michael shares a taxi with Alice, who is trying to get home to her baby, Anne-Marie. Michael is wary of Alice from the off. She seems unstable, speaking in halting sentences, struggling to get her meaning across, but one thing becomes clear: Alice didn't arrange a babysitter. Michael is concerned for Anne-Marie's welfare but soon comes to regret not leaving well enough alone. Like Kathe Koja's Impermanent Mercies (featured in Best New Horror 3) this story reminded me of a nightmarish sketch in Chris Morris's Blue Jam radio show (the sketch with the plumber, he says tiptoeing around spoilers). It's a good read, though one that is guilty of forever warning the reader of the horror to come, which is a rather cheap way of building tension.)
Passages – Karl Edward Wagner (3/5 – Three old friends meet at a school reunion and fall into a conversation detailing their secret horrors. Freddie tells how his sisters and their friends would dress him up in girls clothes. Marcia tells of how she was convinced she had spiders infesting her tight curly hair. Grant, a surgeon, tells of his hatred of needles – and how he managed to overcome his fear. For me, this was a misfire. Wagner does a good job of building up the story, creating a sense of unease as Grant tells his tale, but the payoff is underwhelming.)
Easing The Spring – Sally Roberts Jones (3/5 – A folksy horror tale which sees an environmental campaigner introduced to a young woman called Ceri in a somewhat obvious matchmaking attempt by Ceri's grandmother. They hit it off, which turns out to be bad news for our man. This was okay, but most readers will be familiar with a number of other stories along these lines, not least of which *cough* a certain cult 1970's British horror film starring Christopher Lee and Edward Woodward *cough*. Goodness me, that was a long cough.)
Safe At Home – Steve Rasnic Tem & Melanie Tem (2/5 – Melinda is struggling to cope in her relationship with Charlie. Scenes of her inner conflict, of the horrors she experiences when they become intimate, are intercut with snatches of dialogue from Uncle Pat to his niece, Mandy, and Uncle Pat loves Mandy so very, very much. Boy, did this story piss me off the first time around. The Tems' attempt to conflate child sex abuse and hairy Lovecraftian squid-sex, real or imagined, later in Mandy/Melinda's life felt horribly misjudged; an opinion that hasn't changed after a second reading. The subject matter is bad enough. Tacking monsters onto it serves only to cheapen the real horror at the centre of the story. Worse still, this grubby shocker was originally published in an anthology of erotic horror called Hottest Blood. I'm going to take erotic at its broadest meaning here – that of relating to sexual desire rather than arousing it – because the idea of someone getting their jollies off of this story doesn't bear thinking about.)
Mother Of The City – Christopher Fowler (4/5 – Douglas hates London. He hates how his friends have all moved there and made successes of their lives. Perhaps most of all he hates how he has been left behind. After sleepwalking through much of his twenties he suddenly has the good fortune to meet a young advertising executive, Michelle, through a work commission. To Douglas's surprise, they hit it off. It seems life has turned a corner for our man, but it doesn't take long for the cracks in their relationship to show. Unlike Douglas, Michelle absolutely adores London and when our man lets slip his true feelings about the place Michelle takes it to heart. After their differences manifest themselves into a full-blown row, Douglas soon regrets his idiocy and begs Michelle for another chance. When she agrees to meet him for dinner on her turf, Douglas finds London doesn't want to play ball. Another winner from Fowler.)
Justice – Elizabeth Hand (3/5 – Janet is a journalist who is stranded in a one-horse town after her editor pulls the story she's working on. She is told to investigate a nearby cattle mutilation instead. Janet is furious, but reluctantly goes along with it. Later, she spies a familiar-looking RV parked in town with what sound like two huge dogs shut up inside. The RV belongs to itinerant lawyer, Irene Kirk, who Janet discovers has her own sense of justice. Hand's excellent story The Bacchae in Best New Horror 3 was a modern take on Euripides's tragedy. She dips into Greek mythology again for Justice, but doesn't quite succeed. The story takes an age to get going, and feels overlong as a result.)
The Big Fish – Kim Newman (3/5 – From one author attempting to relive recent glories, it seems, to another. Newman gave us the superb Red Reign in Best New Horror 4, which was a fantastic mash-up of literary and real-life characters set in Victorian London, which then gave rise to his Anno Dracula series. In this novelette he tries another mash-up, this time plonking a Chandleresque private detective into a Lovecraftian world, but on this occasion he comes up short. The near-constant wisecracking of our shamus soon becomes tiresome, and the rather dry roll-call of names and movies dumped into the first half of the story could have been better spent developing some of the characters. In the end I suspect this was a lot more fun for Newman to write than it was for me to read.)
In The Desert Of Deserts – Thomas Tessier (3/5 – A man is crossing the Sahara desert because plot. (I'm not kidding. At no point do we know why he's doing this, suffice to say that he is and he's doing it in a Range Rover packed full of – air quotes – expensive equipment. Anyway, back to the plot.) He is advised to only drive at night by the locals, but soon finds this impractical. The roads, or at least what exists of them, are almost impossible for him to follow. He switches to daytime driving, but soon discovers why he was advised to drive at night. The next morning he finds footprints circling his camp, a presence that seems to haunt him every time he stops for the night. This was okay – Tessier's depiction of the Sahara is a highlight – but the ending is weak.)
Two Returns – Terry Lamsley (4/5 – We're on the up again now with a wonderful Jamesian ghost story from a writer who would go on to make a number of welcome appearances in Best New Horror. In Two Returns we follow Mr Rudge, an old man who one evening witnesses a caped silhouetted figure standing manfully on a darkened railway platform. Rudge is alarmed to see glimpses of this shadowy figure all the way home. The shadow always seems to stay ahead of him. When Rudge gets in through the front door he finds a decidedly unwelcome cape hanging on his coat-hook. I picked up a copy of Lamsley's Under The Crust, from which this story is taken, at the most recent World Fantasy Convention. Sadly that was all I did as the thing would have cost me $400 to purchase. Cripes!)
The Moment The Face Falls – Chet Williamson (4/5 – Paul Kenyon is a former screenwriter who knocks out a steady stream of pseudonymous novels to make ends meet. Out of the blue he receives a phone call from a producer who really, really liked that western he wrote decades ago – the one with Jimmy Stewart, the one directed by Anthony Mann – and he wants Kenyon to write the screenplay of a soon-to-be-published nailed-on bestseller. After so long in the wilderness things are finally looking up for Kenyon. What could possibly go wrong? Though not strictly speaking a horror story, it still has a certain Tales Of The Unexpected vibe to it. If you liked that show – and I very much did – then you'll lap this up.)
Darker Angels – S. P. Somtow (4/5 – This extraordinary story was originally published in an anthology called Confederacy Of The Dead, and it ticks pretty much every box of that premise. We're witnessing the last dregs of the American Civil War through the eyes of Jimmy Lee, a fourteen-year-old boy left picking his way through a battlefield carpeted with the corpses of Confederate troops. Amid the carnage he meets Old Joseph, a former slave who seems to remember Jimmy from a decade earlier, and who is skilled in magic as old as the rivers and mountains of this young America. This is a terrific story – certainly a highlight of the book – but is sadly let down by an ending which feels at odds with the message it was trying to convey. Somtow would later develop this story into his novel Darker Angels, which I might have to seek out.)
The Timbrel Sound Of Darkness – Kathe Koja & Barry N. Malzberg (2/5 – The ghost of Jack the Ripper (or Springheel Jack, take your pick) takes to haunting Sir Arthur Sullivan (one half of Gilbert & Sullivan). Well, "haunting" is perhaps a bit strong. "Floats about telling Sullivan how shit and worthless his work is and will be in the fullness of time" may be a better description. A bit like me with this pointless story, I guess.)
The Tsalal – Thomas Ligotti (3/5 – The exhausted people of Moxton are desperate to leave town but find their every effort to escape is thwarted. Something is repelling them. Something is sucking the life out of Moxton, its people and seemingly all existence itself. The only one not affected is Andrew Maness, a man who possesses a book of knowledge called The Tsalal. This is another Lovecraftian effort from Ligotti, who seems here to have shifted from his usual lush storytelling style to the kind of stale, overly-verbose and hopelessly tangled prose you'd normally expect of H.P. himself. It's a shame because, once you have hacked your way through the turgid first half of the story, The Tsalal really comes alive. Not his best, but worth sticking with.)
In The Still, Small Hours – Charles Grant (4/5 – Lucas is unable to accept that his other half, Joan, has perished in an air crash. He haunts the observation deck of a mostly empty airport nearly every week in the still, small hours. He watches as the last few planes descend and land, waiting for her. There he meets a mysterious man called Daryl, who Lucas assumes has recently landed. It seems Daryl knows a lot about the airport and its workings. Incredibly he also seems to know something about Joan. This was a fine ghost story that was initially a little slow but came to life once Daryl entered the scene. Grant also has some fun messing with your head: not every ghost in this airport is necessarily a person, for example. It's an effective diversion. Just when you're mentally separating the real from the ethereal, Grant slots in another of his wonderfully chill endings.)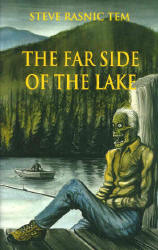 Ice House Pond – Steve Rasnic Tem (4/5 – Bear with me here a moment, folks. Some of you might remember a while ago when TV executives hit upon a weird little phenomena: slow TV. Whether it was two hours of unbroken footage taken from the driver's seat of a train, or an unhurried and voiceover-free look at someone blowing glass, these shows succeeded in finding a steady audience. This novella is like that, and it absolutely works. The story focuses on Rudy Green as he seeks to rebuild his life following the death of his wife and unborn child. Rudy purchases a rundown house isolated in its own winter wonderland and begins to clear it out. A large frozen pond dominates the immediate landscape, its thick ice a shifting swirling grey. A channel of near-black water runs from the lake to the ice house adjoining the residence. When a neighbour swings by suggesting Rudy harvest the ice, to restock the ice house and to restart an old tradition of building a house of ice with the excess, Rudy agrees. After the horror show of Safe At Home, earlier in the book, this is a much better offering from SRT. Very much worth your time.)
The Dog Park – Dennis Etchison (4/5 – This British Fantasy Award-winning short finds a writer called Manning visiting the local dog park on the off-chance he'll find his lost pooch. The park itself is a thinly-veiled cover for the movers and shakers of the TV and movie industry to gather and network, a scene Manning is all too happy to quit. The local homeowners overlooking the park from their expensive designer pads are keen to close the whole thing down, and they're certainly not the kind of people to worry about the occasional dog being snatched by the park's wilder animals. This was a good story but I was surprised to learn it was an award winner.)
The Marble Boy – Gahan Wilson (5/5 – Two boys break into a graveyard for a ruddy good rummage about the place. They soon find a life-size marble statue of a boy encased in glass. They assume the statue is of a boy buried nearby, a boy in a grave whose stone lid appears to have split in two. Much to George's horror Andy levers the halves of the stone lid apart and reaches inside the grave. Bad, bad move. This is an excellent horror short that delivers with every paragraph, building up the atmosphere and tension wonderfully before delivering a truly spine-chilling climax.)
Mephisto In Onyx – Harlan Ellison (5/5 – As with the previous book, Best New Horror 5 closes with a barnstorming award-winning novella from a seasoned pro who really knew what he was doing. Rudy Pairis is a mindreader who is asked by Ally, a long-time friend, to help her acquit a convicted mass-murderer, Henry Lake Spanning. Ally confesses she is in love with Spanning, which Rudy finds utterly bizarre given how Ally was the prosecuting attorney who built the case against him in the first place. With only days to go before Spanning's execution, Rudy very reluctantly agrees to visit him, and so a deadly game commences. Ellison's writing positively crackles in this twisty-turny tale. Rudy is a great character armed with a number of laugh-out-loud opinions, descriptions and turns of phrase. (A security guard being "seven foot in any direction", is a personal favourite.) It's worth seeking out a copy of Best New Horror 5 for this story alone.)
And so we reach the end of another mega review of Best New Horror. Thanks for reading! If the stories take your fancy then you shouldn't have too much difficulty finding a second-hand copy of the book on the interwebs, failing that you should be able to find an eBook copy on all the major platforms.
All being well, I'll see you soon with a run-through of book 6. TTFN!
LP