(If you would like a run-through the stories found in the first three volumes of Best New Horror, jump over to my Reviews page for links.)
Best New Horror continues into a fourth volume showcasing twenty-four of the best horror shorts published during 1992. Well, twentyish may be a more accurate description. Not for the first time, the editors have padded the book with a few not-terribly-horrific pretenders, especially in the latter half. Thankfully, the quality of these pretenders helps elevate the book into 4/5 territory.
As to the stories, let's take a look.
The Suicide Artist – Scott Edelman (3/5 – A man reluctantly tells the reader of a horrible experience of his, aged just six, when a stranger led him away from school. He would like to end the story there but, of course, you, the reader, want to know more. So he continues: detailing the murderous lengths he went to in order to survive the stranger's clutches; about the tragedy that had seen him left alone at the school gates in the first place; and, a short time later, how he stumbled upon his father's appalling abuse of Kate, his older sister. The more that is revealed, the greater the bitterness and hostility the narrator feels about it. How dare you want to know more! But you can't help it, can you? You just won't let him stop, not unless… I admire what Edelman was trying to do here, exploring how characters in a horror story would feel to have the worst moments of their lives written up for the entertainment of others, and how the permeance of the fourth wall could present an opportunity for a little payback. In Edelman's introduction, he describes the unease the story would create in his audience whenever he performed a reading of it, and I can fully believe it. This is a piece that begs to be read aloud. On paper, however, its power is lessened. In my case it allowed me to dwell upon on plot weaknesses. Rather than feeling shame at wanting to know more of the story, or quivering in fear of what the narrator might have in store for me, I spent the latter half thinking, "Wow, you were one unexpectedly strong and fiendishly devious six-year old boy, weren't you?")
Dancing On A Blade Of Dreams – Roberta Lannes (3/5 – The evil that men do carries over into this sexually-charged story of a juror, Patty, during a kidnapping-rape-murder trial. In the dock sits Garrick, an incredibly handsome man who claims to have been set up by a former friend. One night, as the trial nears its climax, Patty dreams of being driven – shackled, bruised and bloody – to a pristine hotel room where she is chained to a bathtub by her ex-husband, Michael. There she is abused by her ex, all the while craving the smallest morsel of his love. When Patty eventually awakens, she feels incredibly uncomfortable about the dream, for Michael had never once been violent during their marriage. Patty's stomach sinks when the trial moves onto an eerily-familiar hotel room in which one of the victims was believed to have been held captive. It seems Patty is experiencing the horrific final days of Garrick's victims in her dreams and, worse still, Garrick knows it. This was okay, and noticeably better than Apostate In Denim, Lannes' controversial entry in Best New Horror 2. Lannes works some vivid and gruesomely effective imagery into her story, but the ending felt a little tacked-on and didn't work the more I thought about it.)
The Departed – Clive Barker (5/5 – A short and sweet story in which Hermione, a recently-departed ghost, seeks to connect with her young son one last time. Under the counsel of an experienced old ghost called Rice, the two devise a plan to visit upon the boy while he is out trick-or-treating. Barker works real magic in this story. There can be no other explanation. In the space of a few pages he masterfully creates a pair of wonderful characters in Hermione and especially Rice, and imbues them with a winning chemistry from the off. By the ending – because of the ending – I wanted to know so much more about them. An excellent read.)
How To Get Ahead In New York – Poppy Z. Brite (4/5 – Steve and Ghost (from Brite's novel Lost Souls) are booked to play a gig in New York's East Village. It's four in the morning and they step off a Greyhound and into a daunting Port Authority bus terminal. It doesn't take long for them to get lost in a building seemingly designed to confuse out-of-towners, and they soon fall prey to a resident army of mindless vagrants. So begins a typically strange morning in New York. I liked this story a lot, despite not having read Lost Souls. Brite maintains a light and affectionate touch throughout much of the story, wrapping a rich human zoo around Steve and Ghost as they sample much of the weirdness New York has to offer.)
They Take – John Brunner (4/5 – Ann and her husband Carlo are summoned to Bolsevieto, a small rural Italian village, to inspect a nearby house and some accompanying land, both of which had been left to Ann by her late aunt. They are unimpressed by what they find. They are keen to leave the village and to sell the place as soon as possible, until Ann spots some unusual tomb-like structures squatting on her land. They should have listened to their instincts. There's a great sense of place in this story, helped in no small part by Brunner's command of all things Italian. Horror stalwarts will probably find the bones of this story in numerous others they read, but, all things considered, this is a good substitute for the "dumped on a remote Greek island" story found in the previous three books.)
Replacements – Lisa Tuttle (4/5 – Stuart is horrified by the sight of a wingless bat-like creature shuffling pathetically amid the pavement trash. He instinctively stamps it to death, repulsed, but soon finds another crawling along the kerbside. It's clear there are more of the hideous little critters out there. Tensions mount when his wife, Jenny, brings one of the creatures home as a pet, seemingly in thrall of it. This story did a decent job of making my skin crawl but was somewhat offset by Stuart being a complete and utter wet blanket. Throughout the story he tells precisely nobody about his predicament, which takes some swallowing.)
Under The Pylon – Graham Joyce (4/5 – A bunch of kids play beneath a neighbourhood pylon, paying no heed to the warning signs and in spite of the discarded bricks and five-foot-high nettles growing there. Big School is fast approaching for all of them, bringing with it the end of childhood innocence and the onset of puberty, and it seems the pylon is sensitive to the changes playing out below. There's something about Joyce's style that never fails to draw me in, a raw honesty perhaps. I loved The Year of the Ladybird (a.k.a. The Man in the Electric Blue Suit in the US), a review of which you can read here, and I really liked this.)
The Glamour – Thomas Ligotti (3/5 – A man is drawn to a movie theatre one night while walking through an unfamiliar part of town. Being the kind of man who likes visiting movie theatres in the dead of night, this seems rather a fortuitous find. The front of the movie theatre is dilapidated and boarded up, and yet a poorly-lit notice advertises tonight's attraction: "The Glamour". When his attention is drawn to an alternative side-entrance to the building further along a darkened alleyway, the man is helpless to resist taking a look. This story has appeared in a few "Best of…" anthologies over the years but was a bit of a misfire for me, sadly, even after a reread. Ligotti's lush writing is present, certainly, but in places it felt like he was trying too hard. His use of repetition, often a successful and hypnotic trait of his other works, feels a little overdone here, likewise a visceral atmosphere he doesn't so much accumulate as heap upon the reader once our man enters the movie theatre. Could just be me, though.)
Under The Ice – John Gordon (4/5 – Rupert invites his schoolfriend, David, to come skating on the frozen fens near his parent's farm. David is a little suspicious of the boy's motives. It's as if Rupert has an answer to every excuse of David's for not going. Eventually David gives in and they are picked up by Rupert's father. David soon finds that Rupert's parents weren't expecting company, making him feel even less comfortable. He senses a great unspoken tragedy hanging over the family: conversation with Rupert's father is practically non-existent, while Rupert's mother is a shadow of her former vibrant self. To David's relief, Rupert pulls him away from the house and out onto the ice. With the daylight quickly fading, the boy is keen to show David something out there; something under the ice. Like They Take a little earlier in the book, this story will have a familiar ring to it for seasoned horror fans, but is no less of a good read because of it. Worth a look.)
And Some Are Missing – Joel Lane (4/5 – David is adjusting to life alone following a split from his long-term boyfriend, Alan. A chance intervention outside his new digs introduces David to the shadowy antipeople, and they are not exactly friendly. I mentioned in my review of Best New Horror 3, which featured Lane's story Power Cut, how I often have to read his stories a couple of times before I get a whiff of what's really going on. This was one of those stories, due mainly to a final sentence that forced me to reassess everything I'd just read. After a re-read, I'm fairly certain it was thrown in there for precisely that purpose, but your reading of it may differ. Either way, it is still worth a read.)
The Little Green Ones – Les Daniels (3/5 – An American writer takes time out from a convention to explore a nearby London cemetery where he is creeped out by a pair of lifelike statues: one of a little girl, the other a little boy. Both are completely covered with an unusually green lichen, a colour that begins to haunt him as he returns home. In the editors' introduction they explain how this story was inspired by the author's attendance at a recent World Fantasy Convention held in London. I rather wished they'd hadn't mentioned this, to be honest, because it made The Little Green Ones less of a horror story and more a six-page gripe about the shitty time he had there. This was an okay read, to be fair, but how this was nominated for a World Fantasy Award back in the day is a mystery.)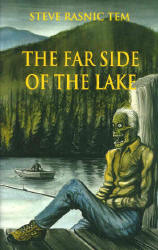 Mirror Man – Steve Rasnic Tem (3/5 – Jeff is a man staring old age in the face, quite literally. He regularly checks his appearance in the mirror for fresh signs of his inevitable decrepitude, unable to help himself. His marriage to Liz has long been a loveless endeavour, but Jeff is determined not to let the same happen with Susan, their eleven-year-old daughter. In fact, to help him feel better about the white hairs poking out of his ears, he decides it would be a fine idea to take his daughter for a long drive to Providence and to a college reunion due to take place there. There he can show Susan off to all his old friends. Wouldn't that be fun? (…?) The longer the drive drags on, and the closer they get to Providence, the more it seems Susan is slipping away from him. On the Steve Rasnic Tem Weird-O-Meter™, this story ranks a respectable "Pretty Strange". Sadly, it doesn't rank among his best. It's not for a lack of effort, but it seems my Lovecraftian maxim holds true once more: that when an author dabbles in Lovecraft's world, they often produce inferior work. Indeed, in the introduction to this story, we learn SRT had a hard time selling it for publication precisely due to its Lovecraftian angle, eventually finding succour in a dedicated Lovecraftian press.)
Mothmusic – Sarah Ash (4/5 – Astar Taziel is a physician who witnesses the devastating effects of boskh – a substance yielded from the dust of a moonmoth's wings. Boskh has wonderful medicinal qualities when taken in moderation, but beyond that addiction lies. To Taziel's growing horror, it soon becomes clear that boskh has a payload much more serious than mere dependency. This is a fantasy yarn, traveller, so steel yonself for A Story Of A Hundred And One Spurious Names. Stick with this one, though, because there is a satisfying seam of horror running throughout.)
Did They Get You To Trade? – Karl Edward Wagner (5/5 – Another winner from Wagner sees Ryan Chase, a successful portrait artist, seeking inspiration over a few alfresco pints one fine sunny afternoon in London. A homeless man approaches Chase's table and begs a few coins for a meal. Chase sees something in the man that could inspire a future work and so he buys a round of drinks to get to know him a little more. To his surprise Chase discovers the derelict was once a punk hero of his: the mighty Nemo Skagg of the trailblazing punk band Needle, a man who once had the world at his feet, but is now on his uppers. What could have happened to Skagg for him to end up in this state? Over the course of a staggering amount of drink, we are about to find out. This was nominated for a Stoker award back in the day, but, even after a reread, I fail to see the horror here. Urban fantasy, absolutely. Horror, no. Not that any of that matters because, whatever the genre, this story is a solid-gold treat from beginning to end. Put simply, Nemo Skagg is a magnificent creation. In Skagg, Wagner perfectly captures an angry punk spark and fierce intelligence that can never be fully extinguished by the booze, but in the end it's Skagg's humanity that shines through. The final revelation of what happened to the last of Skagg's money is bittersweet and devastating. I can't pretend to have read Wagner's entire output, but I'd be astonished if he had written many things better than this. A reread sees this score upped from a 4/5 to 5/5.)
Night Shift Sister – Nicholas Royle (4/5 – Carl is a record shop owner with a huge record collection, an even bigger crush on Siouxsie Sioux and a photocopied map of somewhere he cannot place. The latter intrigues him. There are no street names to speak of and none of the landmarks are labelled, so where could the map have come from? Wait, there's a Siouxsie Sioux lookalike over there. Perhaps she will know something. Yeah, the jumps of logic in this story take some getting over, but to be fair this is the best Royle story I've read in Best New Horror so far, and it bagged a British Fantasy Award at the time. It was also weirdly fun counting all the spiral motifs Royle stuffed into the story.)
The Dead – Simon Ings & M. John Harrison (2/5 – Echoes of the old New Wave movement can be heard in a story where a woman discovers through her childhood and young womanhood an unwanted and unpleasant rebirthing role she must fulfil. My original review of this story was a single word "Nope" – not entirely helpful, but it rather summed up my thoughts at the time. Nothing in the story quite matches the creep factor of two blokes, however well-respected, hunched over their respective keyboards writing this particular literary gem:
It helps to lick your finger and wet yourself between the legs.
Riiiiiight, thanks fellas. The piece improves upon a second reading, but not enough to improve its score. If you are a fan of fiction from out of the left-field then you might have a better time of The Dead than me. That said, when this story was republished in Interzone magazine back in January 1993 – a publication not entirely unfamiliar with weird fiction – it sank without a trace in its annual Readers Poll. Next story please!)
Norman Wisdom And The Angel Of Death – Christopher Fowler (4/5 – Stanley is a desperately boring man charged with brightening up the days of those patients at his local hospital with no family or friends to visit them. And how better to entertain the lonely sick than a meticulous run-through of every Norman Wisdom movie, line by line, scene by scene? Just don't switch off whatever you do, otherwise it might be the end of you! When budget cuts create a bed shortage at the hospital, Stanley is asked to take in a wheelchair-bound patient, Saskia. They instantly hit it off, with Stanley finding in Saskia a tonic to his own loneliness. To top it all, she is a fan of Our Norman. How fortunate is that! Could Stanley be about to turn his life around? What do you reckon? Fowler expertly crafts an engaging and hyperreal villain in Stanley in an entertaining story that is only one contrivance short of perfection.)
Red Reign – Kim Newman (5/5 – This is the novella that inspired Newman's Anno Dracula series of books, and it's a corker. I had avoided the Anno Dracula series till now because "vampires, meh…" but I might have to rethink all that. This is Victorian London, but not as we know it. Dracula is Prince Regent, vampirism is spreading unchecked across the land, and a certain Dr Seward is secretly taking it upon himself to despatch vampish ladies of the night. The murders are sending ripples across the warms (humans) and new-borns (vampires) alike. Something must be done. Centuries-old vampire Genevieve Dieudonné and Charles Beauregard of The Diogenes Club must work together to root out this so-called "Jack The Ripper". This brilliant story is worth the entrance fee on its own.)
Aviatrix – Peter Atkins (3/5 – Jonathan Dyson is a nervous flyer. He's fine once he's up in the air, but the take-off? Forget about it. To help him get through his latest trip he sinks a Valium pre-flight, secures himself in his seat, and finds himself slipping into a vivid dream world. In it he meets the titular aviatrix who takes him out in her open-top biplane across increasingly strange lands and seas. As he slips in and out of consciousness Jonathan is surprised to find he is able to re-enter his dream where he left off. This was okay, with some great little touches here and there, particularly when Jonathan slips into the dream world for the first time, but let's be honest – the moment you saw he was a nervous flyer you probably guessed how the story turns out.)
Snodgrass – Ian R. MacLeod (4/5 – A smart alternative history that follows John Lennon as he bums around Birmingham thirty years after he walked out The Beatles. His whole selfish existence has been spent living from one moment to the next. His friends and acquaintances are little more than a means to an end, which, for "Dr Winston O'Boogie", is usually to get pissed and get high. Now, with Lennon squarely in his fifties, The Beatles are back in town and Macca would like to see the good doctor again. I liked this a lot more than 1/72nd Scale, MacLeod's previous story in Best New Horror 2. His Lennon is a wonderfully gobby character: coarse and witty and, despite his many, many flaws, unmistakeably human. This is an engrossing and entertaining read, certainly, but it has found its way into a horror anthology on the thinnest of premises.)
The Day Of The Sharks – Kate Wilhelm (3/5 – Gary and Veronica are heading on holiday to Grand Bahama, stopping over at Bill and Shar's luxury house on the way. Their hosts are preparing for a party that evening, to which Gary and Veronica are cordially invited. The shindig is self-serving, of course. Gary is an investment councillor and he knows it won't take long for Bill's wealthy business-owning guests to learn of the fact and to start tapping him up. Meanwhile Veronica is a woman on the edge of madness. She struggles to hold herself together with tranquilisers after an incident in which she set fire to her workplace. Gary cares little for her these days. He's playing down time before they can separate. Gary's much keener to bump uglies with Shar again. Events take a metaphorically gruesome turn the morning after the party. This was okay but, as you may have detected, a lack of likeable characters made it difficult to care what was happening to anybody.)
Anima – M. John Harrison (3/5 – A writer makes the acquaintance of a curious fella called Choe Ashton, who proceeds to drift in and out of his life. Ashton is an enigma: giddy and in love with the world one moment, then surly and abusive the next. He is, however, never less than interesting. It's impossible to see the whole of him without parts of one's vision blurring, for instance. Ashton is prone to disappearing for weeks and months without notice only to reappear as if nothing had happened, and our man is unable to resist his call every time. The anima is another name for the soul and Harrison deftly personifies through Ashton the changeable and restless bugger sitting behind the wheel in all of us. It's an okay read – less a story than it is a character study – but quite what qualified this for inclusion in a horror anthology is beyond me.)
Bright Lights, Big Zombie – Douglas E. Winter (3/5 – In this Stoker-nominated story, zombies are a thing, New York is struggling to cope with its returning dead and society has banned all video nasties as part of its response. Blurry umpteenth-generation copies of notorious old gore flicks such as Cannibal Holocaust and Guinea Pig become valuable contraband, and an opportunity presents itself to exploit this demand by producing real-life zombie movies. The story is told in second-person (as fans of Bright Lights, Big City might suspect). Usually this is a red flag for me, but Winter's playful inventiveness made this one of the better examples.)
The Ghost Village – Peter Straub (5/5 – This superb novella expands on Straub's novel Koko and is an early and condensed version of The Throat, the concluding part of his Blue Rose trilogy. We're back in the heat of the Vietnamese jungle. Death is only a sniper's bullet away. Tim Underhill and Mike Poole explore a chamber dug beneath a hut in an abandoned village. Something bad happened here, something bad enough to keep the VC away. Text lines the walls and ceiling of the chamber, old rust-coloured blood stains much of the floor and ominous-looking manacles hang limp. A chance meeting in an illegal bar reveals the horrific truth of the place. Like Koko before it, The Ghost Village bagged a World Fantasy Award, and is a terrific closer to this book.)
And so ends another monster review of Best New Horror. Thanks for getting this far. I hope you enjoyed it. Sadly, PS Publishing's anniversary editions of Best New Horror seem to have stopped at book three with little sign of the series continuing. They continue to publish new volumes of the series, however, with book twenty-nine (yes, twenty-nine!) coming in the next month or so. That said, you shouldn't have too much trouble sourcing a second-hand copy of this book from Amazon, eBay or AbeBooks should you desire, and, as ever, you'll find eBook editions available across all main platforms.
And so onto book five!
LP