(If you would like to read reviews of the previous books in the Best New Horror series, jump over to my Reviews page for links.)
After a run of above-average entries in the Best New Horror series it was inevitable we would hit an iffy one, and this is it. The weird thing, though, is there is nothing massively wrong with the book. There are few stinkers to be found here, if any, but then nor are we overly blessed with knockout stories. This instalment therefore scores a fairly average 3/5 from me.
Best New Horror 8 presents twenty-four horror shorts published during 1996, and runs as follows:
Walking the Dog – Terry Lamsley (4/5 – Steve is hired by the mysterious Mr Stook to walk his dog, which sounds easy enough until Steve finds himself being dragged around some godforsaken craggy moor by the thing each and every night. It's an arrangement that is every bit as eccentric for our man as it is exhausting, but then nothing quite compares to the weirdness of the "dog" itself. Still, at least the money is good. Now if only Steve can loosen the grip Stook has somehow taken on his life. Or, more accurately, his neck. Who is leading who, exactly? I'd say this was the weakest story of Lamsley's to appear in Best New Horror. That's not to say this was poor, rather the least best of a good bunch. The characters are interesting, the setting is suitably creepy, and there's no mistaking this for anything other than a horror story. Still, you have to wonder how this oddity popped into Lamsley's head. I'll have what he's having, please.)
Mussolini and the Axeman's Jazz – Poppy Z. Brite (3/5 – Another beautifully-written story from Brite, and one that typically doesn't skimp on the claret. Like The Sixth Sentinel (Best New Horror 5), Brite digs into New Orleans history for inspiration, but falters on this occasion by also attempting to incorporate all of world history into the bargain. (Small exaggeration.) Archduke Ferdinand and his wife are assassinated in Sarajevo, triggering the Great War. Four years later the Archduke's ghost turns up in New Orleans, exceedingly pissed off and determined to hunt down and kill a centuries-old Italian occultist called Cagliostro. The Archduke is convinced Cagliostro is guilty of ordering his assassination. He has a plan for revenge. All he needs in an unwitting pawn. Beware, New Orleans, the axeman cometh. This is ambitious and imaginative stuff, but ultimately a rare misfire from Brite. You might have a better time of this than me if you ignore the tone set by the first part of the story and instead strap yourself in for a silly, gory fun ride.)
An Eye for an Eye – Norman Partridge (3/5 – Wanda and Russell are intrigued by a stuffed black cat owned by Wanda's grandmother, Madame Estrella, not least by how Estrella is somehow able to bring the thing back to life. The cat supposedly once starred in a few golden oldie horror movies, and word has it that a fella of Estrella's acquaintance has more memorabilia like it stashed away somewhere. Wanda and Russell are keen to plunder this valuable collection. Wanda especially will stop at nothing to get her hands on it. This story was written for a themed anthology and good grief does it show. It's a fun read, yes, but, like the story preceding it, there's a lot of wreckage to overlook.)
Underworld – Douglas Clegg (3/5 – Oliver takes his wife Jenny to an old Chinese restaurant squirrelled away in a run-down New York alley. The wife of the owner correctly guesses Jenny is pregnant and is confident she will give birth to a baby boy. Jenny is tragically murdered, however, and when Oliver returns to the alley sometime later he finds the restaurant has been boarded up. When he looks through a crack in the boards and into the darkened restaurant, he catches a vision of Jenny framed in the glass of the kitchen door. Inevitably, Oliver breaks in to investigate. This was okay, and better than Clegg's previous entry, Where Flies Are Born (Best New Horror 3), but it felt like a plot outline at times which would have benefitted from a little more flesh on the bones.)
The Curse Of Kali – Cherry Wilder (3/5 – Gwen lodges with the Bentons and their three children. The mother, Rose, works in real estate. Through some prior financial finagling Rose had managed to secure ownership of the house next door, much to the annoyance of the old widow Pallister who lived there. Now, with Mrs Pallister passed away, Gwen watches as the Bentons pick over their acquisition and its exotic chattels. When the youngest Benton fails to return home one evening, Gwen is disturbed to see a shadowy figure lurking at the corner of the Pallister house. This was okay, but, for me, the setup seemed too obviously engineered to deliver the shock Wilder had in mind. I'd have also preferred a little less of the awful Bentons and a little more of the Pallisters, if only to better qualify events later in the story.)
The Film – Richard Christian Matheson (3/5 – A short shocker from Matheson which sees a ragtag bunch of sick and ailing ne'er-do-wells descend on a brutalist movie theatre in some futuristic, eco-apocalyptic shithole. They're all super-keen to see "The Film", even if it's the last thing they do. Another middling story here, but this does at least better Matheson's previous entry, Ménage à Trois (Best New Horror 6). It's an entertaining read, and one whose postmodernist leanings lend it a certain freshness for you hep cats, but it won't be too long after the end before you start picking holes in it.)
Of a Cat, But Her Skin – Storm Constantine (3/5 – Nina escapes her control-freak other half, Scott, and loses herself for a while in the grounds of Elwood Grange. She happens across a stone monument tucked away in the woods: a wide obelisk carved with assorted arcane texts, atop which sits a sculpture of a cat hunkered down in a hunting pose. Nina is drawn to the monument, and feels it expose a rich seam of confidence within her. This was okay, but it takes a while to get going. While I liked the places the story goes to, I couldn't help thinking that the fantasy element – I struggle to call this horror – served to undermine Nina; as if she wouldn't have been capable of achieving what she does within the story without receiving a magical leg-up.)
Hopscotch – Donald R. Burleson (3/5 – It's the dead of night and an old woman revisits the neighbourhood of her youth. Signs of life are thin on the ground. The buildings vary from decrepit to barely inhabitable piles of wire and rubble. The old woman finds a faded hopscotch grid in an enclosed alleyway and recalls the gruesome fate of the intense young girl who painted it. The old woman flips a bottlecap into square one. Game on. Well, you can't fault Burleson for a lack of effort. He lays on the atmosphere with a trowel in the opening pages and then, when most writers would have given up the story as a bad job, he ploughs on ahead despite having an old woman playing hopscotch, in a dead part of town, in the middle of the night, on her own, and while beset with arthritis. He tries everything to make the story work. To be fair this was okay once it got going, but, let's be blunt, there's a lot of bollocks you're going to need to swallow here. So to speak.)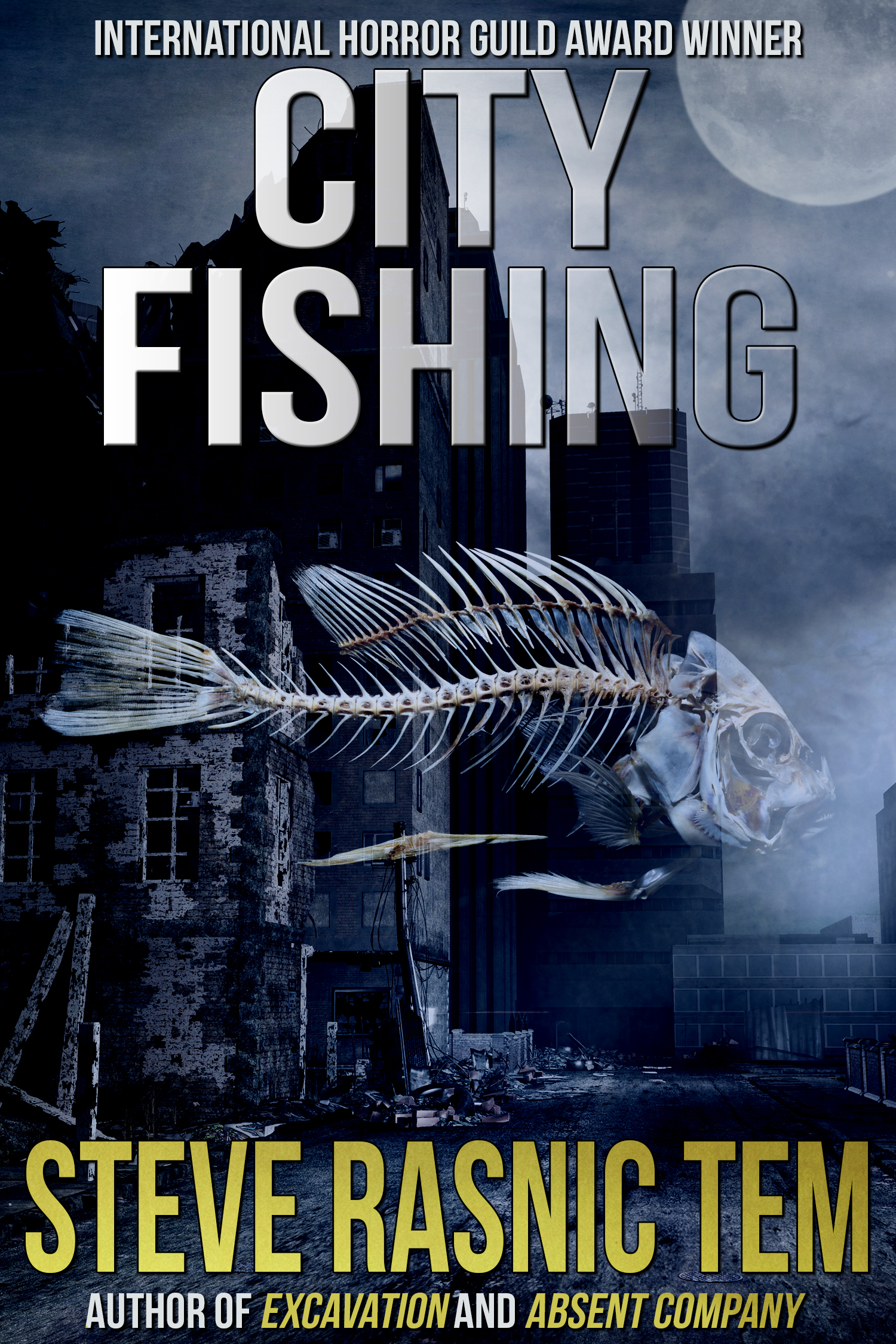 Ghost In The Machine – Steve Rasnic Tem (4/5 – Carter is baffled how the TV is still on with no power running to it. In fact, how can the TV be on at all when he'd already given it to his neighbour? It seems Carter's mind is in a strange place. Life has not been the same since his mother died. Best get the repairman around to help put things right. Fans of SRT know how strange his stories can get, and this is one of the strangest. In the story's introduction he describes how it was written at 2am, which sums up its dreamlike quality perfectly.)
The Moon Never Changes – Joel Lane (3/5 – Gareth is a young man who, for the most part, manages to keep hidden the seething frustration he feels for modern life and the state of things. He indulges his bitterness through a number of unhealthy pursuits. He attends meetings of a local fascist group and soaks up their dogma. He broods over photographs of those who'd dumped him. When Lorraine, a work colleague, invites herself around to his place, it seems Gareth has a chance to turn his life around, but is he willing to take it? In the introduction Lane describes the story as being about the psychology of fascism. I don't doubt this, but by wrapping it in his usual gossamer layers of metaphor and implied meaning, I couldn't help but feel he'd let his target off the hook.)
Butcher's Logic – Roberta Lannes (4/5 – We're in 1950s US of A to witness a slice of familial strife brought on by the eldest daughter's friendship with a lad called Jesse, a half-Puerto-Rican half-Afro-American boy. Neither of the girl's parents approve of Jesse, what with this being 1950s US of A and all. Her mother in particular dials up her admonishment of the girl at every opportunity. Tempers boil over when Jesse stands up to the girl's father during a fractious exchange, causing the old man to accidentally bugger over and hurt himself. Later, on a grocery errand, the girl sees her father's car parked by the store. The old man is nowhere to be found inside, and the staff seem a little cagey of his whereabouts: the cashier, the bagger… and the butcher. I liked this a lot. Lannes replaces the extreme horror of her previous stories with something more restrained and reaps the rewards as a result.)
Kites and Kisses – D. F. Lewis (3/5 – Clive is a young lad who spends a lot of his time looking out of the window. He often sees another young lad playing outside with a kite. Asking his mother for a kite of his own, Clive is told if he'd wanted one hard enough then he'd have one by now. According to his mother, such twisted logic as this is what helped them become so terribly, terribly wealthy. Clive isn't so sure about that. It seems every time Mr Court pops round in his dumpster, it's to seek money that Clive's mother doesn't have. This is one of the longer stories of Lewis's oeuvre, clocking in at a giddy five and a half pages. For the most part it was a fairly straight affair with some nice writerly flourishes, but the jarring switch to Lewis's usual cryptic style right at the end was more tiresome than intriguing.)
Last Train to Arnos Grove – Marni Griffin (3/5 – It's approaching midnight and a woman is trying to get home in time to receive a call from her other half. Wouldn't you know it, her car runs out of petrol just outside Wood Green tube station. Scrabbling together some loose change she buys a ticket for the underground. When she gets on the train, however, she finds there are several more stops before Arnos Grove than were advertised. This was okay, albeit another story that felt overly engineered. Was it really so fantastically important to be home by the stroke of midnight? Wouldn't her other half have called again a little bit later? Or does he turn into a pumpkin at one-minute-past? And who calls their partner at midnight anyway?)
The King of Rain – Mark Chadbourn (4/5 – Four work colleagues are on a miserable hiking break on the Derbyshire moors: John, the owner of the business; Phil, the office curmudgeon; Gordon, the annoyingly upbeat guy; and young Sam, our narrator. As rain persists and the hike progresses, Gordon and Phil begin exhibiting strange injuries: a large bruise on the arm, a sudden nosebleed. Much to Sam's unease, John seems to be holding something back about the purpose of their hike. This was a very good story, and one written at a time when insufferable office team-building exercises were all the rage. Coincidence?)
Hardball – Iain Sinclair (3/5 – For the last three years a young man has been in the employ of The Pole, a crotchety and creatively-sweary drunkard. Along with an unhinged youth known simply as The Kid, the three of them maintain the painted lines of football pitches on Hackney Marshes. It's a never-ending job, seeing as though there are two hundred of them. To our man's surprise he finds both The Pole and The Kid sometimes engage in a little extra-curricular activity, taking on football fans in penalty shootouts outside grounds on match days. Our man is invited to play but soon comes to realise there's a lot more at stake than a couple of quid and a celebratory chug of vodka. This was okay, but it took a second reading for it to improve. Even then I didn't buy it. I suspect that for every reader who laps up the literary showboating on display here there'll be a dozen more enduring a story basting indulgently in its own writerly juices.)
Gas Station Carnivals – Thomas Ligotti (4/5 – This playfully meta story sees a dyspeptic writer sitting in a cabaret club, drinking mint tea and smoking mild cigarettes. He is joined by an arts critic called Quissier who is worried that he's in dutch with the club's proprietress after calling her "a deluded no-talent". Apropos of nothing, Quissier then goes on to relate his childhood experience of the run-down little carnivals that he would sometimes find close to equally run-down gas stations, and of the strange and scary entertainment he would find within them. The writer, seemingly having had enough, stops Quissier halfway through his story with a surprising and revelatory interjection. Ligotti's stories are in a field of their own, and are often a highlight of the Best New Horror books that feature them. This is no different. Probably my favourite of his appearances thus far.)
Ghost Music: A Memoir By George Beaune – Thomas Tessier (4/5 – Beaune, a music journalist, recounts the strange events surrounding the decline of his composer friend, Eric Stringer. When Stringer is commissioned to write a quartet he moves to London to throw himself fully into his work. Months pass, but, when Stringer eventually exhibits the piece to Beaune, our man is troubled by what he hears. The music into which Stringer had poured so much of himself was undoubtedly beautiful, but it also had the unfortunate distinction of having already been written, note for note, by an obscure composer several years earlier. When Stringer scraps the work and starts afresh, he finds to his horror and shame that the same thing happens again. Could Stringer have been suffering a bizarre episode of writer's block, or was there a more supernatural explanation? Tessier really knows his stuff when it comes to classical music, it seems, and this had the feel of a story he'd wanted to write for some time. The result is a really good read. Jump in!)
That Blissful Height – Gregory Frost (4/5 – Frost dramatises the story of Professor Robert Hare and his efforts to apply scientific methods to the craft of local spirit mediums in mid-1800s Pennsylvania. He attends a séance with his friend and fellow cynic, John Hazard, noting how the medium often had too much influence on the messages being passed along from the afterlife. Hare endeavours to produce a number of contraptions to create a degree of separation between the medium and the message being delivered. In doing so he finds his long-dead sister, Anna, suddenly keen to have a chat. Hare's head is turned by this revelation, but Hazard remains unconvinced. Frost's impeccable writing helps make this one of the strongest stories in the book and is very much worth your time.)
Skin Deep – Nicholas Royle (3/5 – Henderson has been enthusiastically boffing Graham Bloor's wife, Elizabeth, behind the man's back for some time. When he is invited one day to accompany the Bloors up to the Highlands to help hunt wildcat, Henderson accepts. He is disappointed and slightly alarmed, however, to discover Elizabeth has been unable to make the trip. Cue much tension as the two men head on out for the hunt. This was another story that was jarringly over-engineered. Here's an example of what I mean. Within the space of the first two pages we establish: 1) that Bloor is being offered two thousand pounds from a taxidermist for each wildcat he bags; 2) that wildcats are "as rare as rocking horse droppings", and 3) that Bloor is a successful businessman with a big house and a flash car. Ri-i-i-ight, because spending days hunting rare wildcat is just what successful businessmen do for pocket change. I smell droppings here, and they're not from any rocking horse. The story never really recovers from this clanger, but it does have its moments and Royle does succeed in providing a strong ending.)
Hell Hath Enlarged Herself – Michael Marshall Smith (4/5 – An old man drives to a hotel room in a world gone to hell. Along the way he reminisces about an old friend of his, David, and the incredible technological advances they achieved in their youth along with David's girlfriend, Rebecca. Back then the three of them worked in secret to produce a nanotechnological panacea, a real world-changer in their eyes. But each advance they made in their discoveries would come with an added layer of hubris. As any Outer Limits fan knows, the arrogance of boffins too much in love with their own work never plays out well. This novelette was nominated for a World Fantasy Award at the time and while the futuristic science on display has rusted a bit over the years, the story is still a good one. It does come slightly adrift towards the end, however, when MMS starts spooning in the supernatural.)
Unforgotten – Christopher Fowler (3/5 – A ruthless property developer is keen to purchase a knackered old building sitting between two others he owns. The developer wants to knock the whole lot down and parcel the land for development, maximising its value. His right-hand-man, however, sees a certain charm in the old building. He also finds its plans don't quite add up. Not every square foot of the place seems to be accounted for. Time for a look-see, then. I doubt there are many people who can rival Fowler's knowledge of London and his passion for the place, but on this occasion it proves his undoing. While he pulls out a decent ending to the story, there's too much fussing and farting about getting there. A rare misfire for me, sadly. Fowler went on to use elements of this story some years later in his second Bryant & May novel, The Water Room, with broadly similar results.)
A Plague On Both Your Houses – Scott Edelman (3/5 – Five words: "Romeo and Juliet and zombies". A long-running feud exists between the living and the living dead. Carlo, son of the mayor of living New York City, falls head over heels in love with Delores at a masquerade ball. Unknown to Carlo, Delores is a zombie, and the daughter of Leopold, king of the zombies, no less. Can true love find a way? Edelman presents for the audience's delectation a five act play written in rhyming couplets. It's an admirable effort, but it's telling that Edelman couldn't find anyone to publish the piece, resorting instead to self-publishing it as a Halloween card. Still, A Plague… eventually bagged a Stoker nomination, so his efforts seem vindicated. For me, though, I'm with the editor who said 'Sorry, but we don't like Shakespeare'.)
Final Cut – Karl Edward Wagner (4/5 – In what was believed to be Wagner's last story before his untimely death, Dr Kirby Meredith is a psychiatrist in a large hospital who gets a distressing call from Cousin Bob. Bob, a long-time alcoholic, can't stop vomiting blood, and so Meredith instructs him to come to the hospital straight away. Bob is stabilised, but finds he needs an operation to save his life. While under the knife, Bob has a strange dream in which he stumbles into a morgue and an ongoing autopsy. Or at least Bob thinks it was a dream. This was a very good story. Though there's a sense that Wagner, a trained psychiatrist himself, was getting one or two things off his chest, it never strayed into chest-beating polemic.)
The Break – Terry Lamsley (5/5 – If Walking The Dog was Lamsley's weakest appearance in the Best New Horror series, then I would say The Break was his strongest. In this superb novelette, Danny accompanies his grandparents on a week's holiday in the sleepy seaside town of Todley Bay. There he witnesses a number of weird things happening around him, from a man taking days to inch a large heavy box along the jetty, to a huge oily gull stalking him, to a hotel with a shifting number of floors, to a number of people only he seems able to see. Some of these people seem awfully keen to spirit Danny's senile grandfather away. The lightness of touch that imbues many of Lamsley's stories is replaced here with sobering observations on the effects of Alzheimers on the sufferer and those who love and care for them, and his story is all the more powerful for it. This was an excellent read. Jones leaves the best story for last in Best New Horror 8.)
And so we reach the end of the review. If you got this far, thanks for reading! I hope there were a few stories here that tickled your fancy. If so, you shouldn't have too much difficulty finding a second-hand copy of Best New Horror 8 online. Alternatively, you can purchase an eBook copy on most major platforms for a couple of quid. The cover images in the review will take you to the relevant Goodreads page should you want to explore more of the author's work.
Till book 9, keep well and I'll see you soon.
LP